My phone beeped. The text message read "WHAT HAVE YOU DONE," so I knew my brother had gotten his mail.
I had been planning to build a bed for my stepdaughter. I had plans drawn up and everything. Trying to save money, I asked my wife to look for a mattress online. Instead, she found a bed that almost exactly matched my plans, for about what the wood was going to cost me.
So we went to the used furniture store to look at the bed. And sure enough, it was just what we were looking for–a twin bed resting on top of a desk on one end, a set of shelves and drawers on the other. But on one of the shelves, there was something that made me recoil in horror.
They were just sitting there, waiting for me. As they taunted me silently from the shelf, I wondered, were they a warning? A sign from some great horror beneath the waves that the bed was cursed? Or had the ducks placed themselves there deliberately, knowing that I was coming, and that I would be their way out of an eternity gathering dust in a junk shop?
If you're confused, you should understand that my family has a bit of a history with blue ducks.
These had a mark on the bottom, that declared them to be Enesco products. It appears that these were once in some way a "thing," mass produced for people to buy, and not some horrible one-off experiment passed on at a party. Thankfully I could find no trace of them on the current site, so apparently someone has come to their senses.
Still, the company that now owns Gund once made these things. It makes me weep a little.
Regardless, we bought the bed, and almost against my will, the ducks. But there was only one thing I could do with them.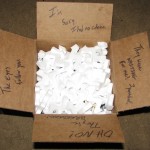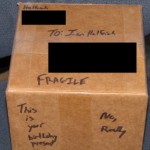 Happy birthday little brother!
Sadly, I may have created a monster. Armed with the knowledge that there are more of them out there, he's gone looking. He's already found one for sale on the web. I can only pray to the elder gods that the item was sold before he found it.